15 février 2014
February the 16th, 9:21AM
Dear friend,
My plane landed at twenty past midnight yesterday morning. By the time I got to the room I'd booked in a hotel near the University of Auckland, it was past two. I couldn't sleep because of the excitement. I couldn't wait, I had to go out and explore. Anyway after a five hour sleep I woke up and, finally, went out. But here is a better and funnier story:

While in the second plane (from Singapore to Auckland), I was sitting next to an Indian guy whose name I can't even pronounce or spell, and he was...well, sort of hitting on me. I now think the whole situation is funny though because I was ugly as hell: bags under my eyes, messy makeup, messy hair. However, he kept on ordering us drinks. You know me, I can't say no. I did say no after the second one though 'cause I was starting to get pretty tired and annoyed. In the end, he offered me a Valentine's card (I forgot to say that I spend Valentine's day in the plane) with his number and email address. Can you imagine nine hours being hit on? (in a plane to top it all!!)
Eventually, I got only one thing out of this trip across the whole d*mn world: "In My Remains" by Linkin Park. You should listen to it if you don't know it; it's a good song from a good band.
I should probably stop here and go out, you know the saying "When in Rome..."
Yours faithfully.
16 février 2014
February the 17th, 10:27 AM
Dear friend,
Today, I have to start looking for an appartment. I'm a bit anxious but I keep believing in my good star/fairy godmother/leprechaun/angel/whatever you call it. But first, I gotta fix my phone because every 'business' transactions related to appartment renting is done by phone/SMS.
Anyway, remember I told you I had been hit on in the plane? well, it happened again but this time it was in an elevator (I'm on the 13th floor by the way). The guy was australian (I know that because he had a tattoo representing the country of Australia on his left calf) and had a beard and a beer in his hands. He was probably a bit - or a lot - tipsy because he had this way of talking that most drunk people have. However, he was like thirty five years old.
Did I tell you Eminem was performing in Auckland at the moment? well, he is. I unfortunately am not really excited about it because his music is not my cup of tea. The girl who told me he was performing was excited though because she had come all the way from Wellington just to go to the concert. When I left her I said I was going to go to the UofA campus which I did and - oh boy - was I impressed. It looks like a small city with all kinds of University: arts, fine arts, business school, human sciences, biology, engineering, music and everything you can think of.
But I remember I did not tell you about my room. Well it is rather small: a one-person bed, a desk and a cupboard (I share the bathroom/toilets and kitchen with other people; a bit like Antinea but much more comfy). The kitchen seems always dirty, though. The building is called 'University Hall' because it is not far from the campus but it is also a sort of hotel because there's always someone at the reception desk (there's no bell, though). I have a big window in my window that goes from the floor to the ceiling and the view is not that bad; I think I'll give you a picture of the view.
Now has come the time I start my hunt for a plce to stay in. I wish you all the best.
Yours faithfully.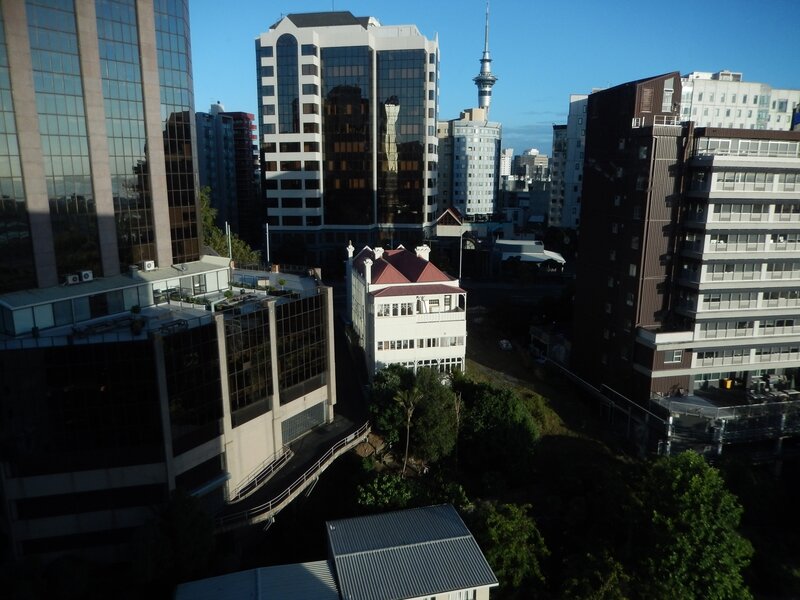 17 février 2014
I'm nineteen years old... How come I had never eaten sushi before?
22 février 2014
February the 23rd, 8:15AM
Dear friend,
It's been a while and I'm sorry for that. However I had to move hotels twice before ending up in this residence I'm in. The first hotel was great. The sesond was a dorm room so... not so much. It wasn't all bad though. I mean the staff had a nice sense of humour and even the door were humourous (wait, is that even possible?). It was called the Nomads FatCamel Hostel.
Anyway, guess what I'm listening to while writing? Yes it is: Shaka Ponk! I've been training to sing their song Eh Là Mala LAMA LAïco, I can tell you it is rough. There's a funny thing here; they don't have supermarket or such. No no, they have 'Convenience Store' and 'Dairy' which is the equivalent of our 'Epicerie' but in just bigger. That's where I bought the coffe I'm drinking right now and well, IT'S DISGUSTING. I have a friend, from my former University, who appreciates coffee just as much as I do: Amber* and we would drink coffee and just talk for hours. I kinda miss it. Anyway, Amber would have trown up if she had tasted this coffee. Worst coffee ever!
Here's a view from my window in my residence (Floor nbr: 10). And actually there is a sort of electronic thing that you have to swip in front of the box in the lift, otherwise the lift doesn't move. Cool, huh?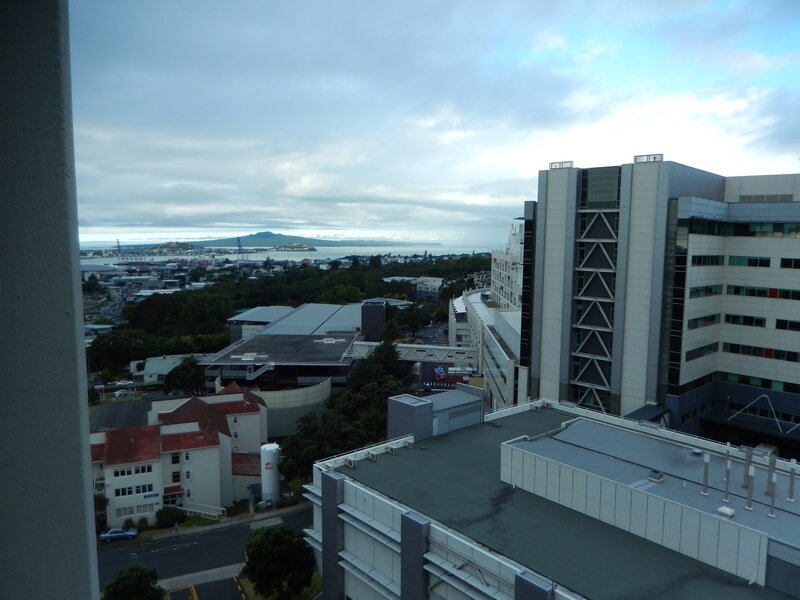 Anyway, I might write later. My mind is a bit foggy.
Yours faithfully.
*I will change all the names here, I have no idea why, but I have the feeling it's cool.
23 février 2014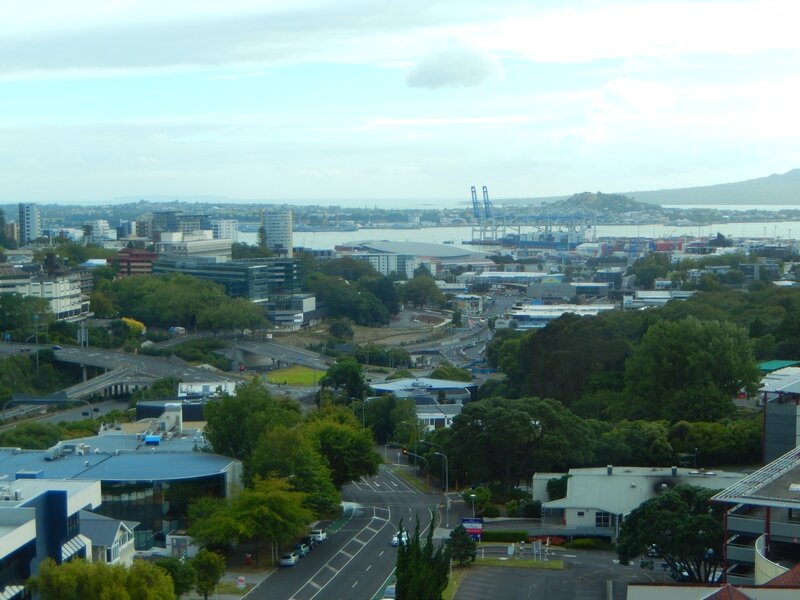 24 février 2014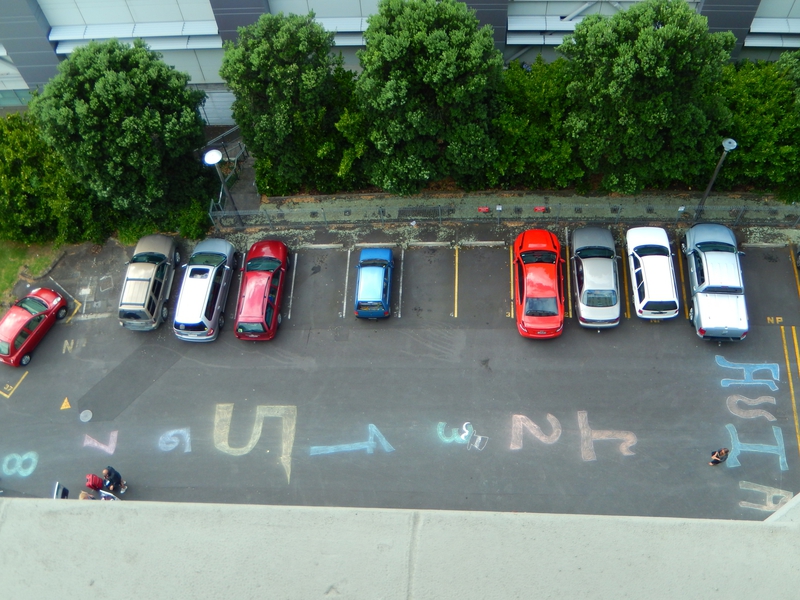 04 mars 2014
March the 4th, 7:55PM
Dear friend,
Indeed, it has been a while. I was caught up in the moment, you know.
Anyway, my residence has a lot of activities. On the first day of O-week ("Orientation week"), which was on the 24th of Feb., we had a meet-up in the common room of our floor (un foyer if you rather). We introduced ourselves and, especially, our Residence Advisor. She is a girl but her name is a male name in french, strange right? However, on thursday we had a "sponge war" which was composed of different games: a NZ version of Salade, a water battle, etc. Then the next day I went to my very first NZ party. I did not stay long to be honest, it is still all new to me. The bar we went to, was having a jungle party but I, unfortunately, did not have anything related to the theme. The drinks, however, were quite cheap and there was a dance floor. I had a lot of fun. On the following Sunday, I took part of the annual Residence photo!! and for the very first time in YEARS: I wore a skirt in public. Not that you can see it though, as I am sitting. Besides, we were, like, over 200 people so...
Yesterday was my first day at the uni. I had only two classes: Asian Film Study and Chinese. While, today, I had four: Linguistics, Poilitics and Media, Chinese and Maori. The latter was particularly interesting. We are in a Maori house called Marae and we have to take our shoes off before entering and we sit on the floor like kids. How odd! I freakin' loved it. At the beginning of each class, the teacher will say a 'prayer' in Maori and we all have to close our eyes and remain quiet. This is paticularly funny to me because I did not know. So, when he started praying I had my eyes opened for at least half of the prayer. I hope noone saw it. I didn't mean to be disrespectful...I just didn't know. I hope someday I could do the Hongi which is the Maori greeting: your put your forehead on the other person's and you let your nose touch the other person's.
I have to go.
Yours faithfully.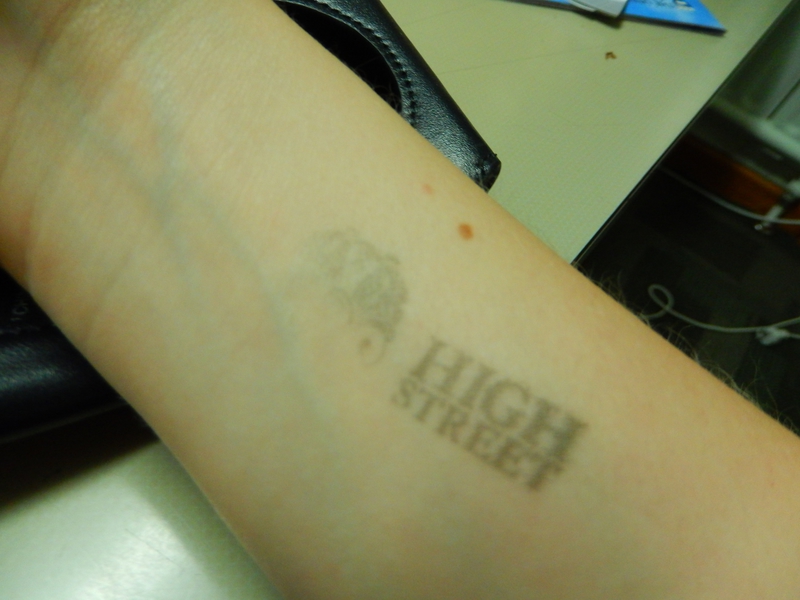 Thanks to my dear friend Amber, I now know what the Civic is.
05 mars 2014
I got some 10% discount coupons for KiwiYo, a shop that sells "frozen yoghurt". While in the shop your mind goes: PINK!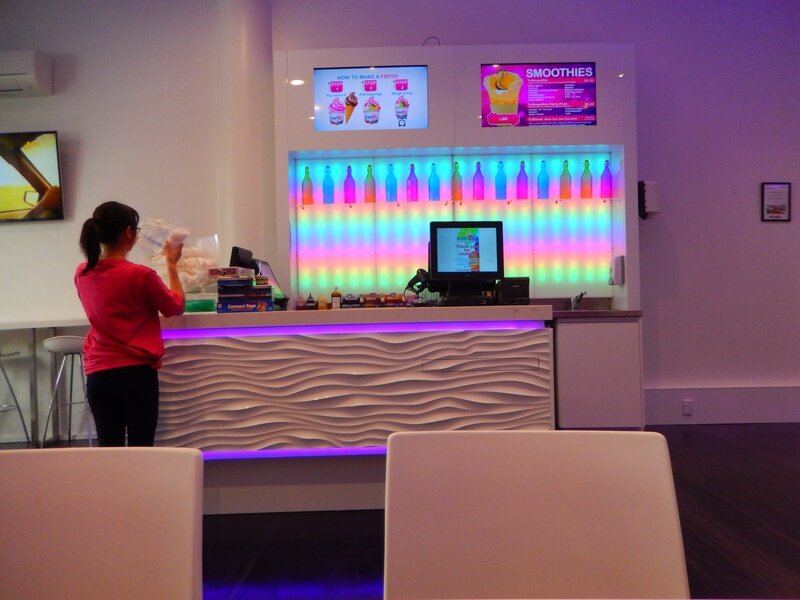 08 mars 2014